7 Years of Life and Death at Xcaret
by Michele Kinnon (Nov./Dec. 2012)
Although I wanted to pull my hair out trying to get my kids wrangled into all the costumes and dance outfits they require for the various parties and events they had to attend last week, this is still my favorite time of the year in Mexico. This year we had Cat's dance group in the Xcaret parade down 5th Ave., another dance performance and a huge Halloween party at Papalote, the annual costume party at the barn and, of course, an evening at the Festival de Vida y Muerte at Xcaret.
Every year, I go on and on about the amazing work of the creative team, organizers and staff at Xcaret and this year will be no exception! The children's pavilion was awash with colored lights streaming through clouds of copal. Children moved from station to station, enjoying "cuenta cuentos" or storytelling about the ancient Maya and painting clay skulls. Always popular, the opportunities for face-painting were scattered throughout and children could choose from traditional Maya tribal designs or more modern calaveras. All the areas were well-manned with cheerful volunteers ready to explain the various exhibits and point newcomers in the right direction. I was pleased to see quite a few of the Preparatoria students from Papalote and Explayarte in the mix.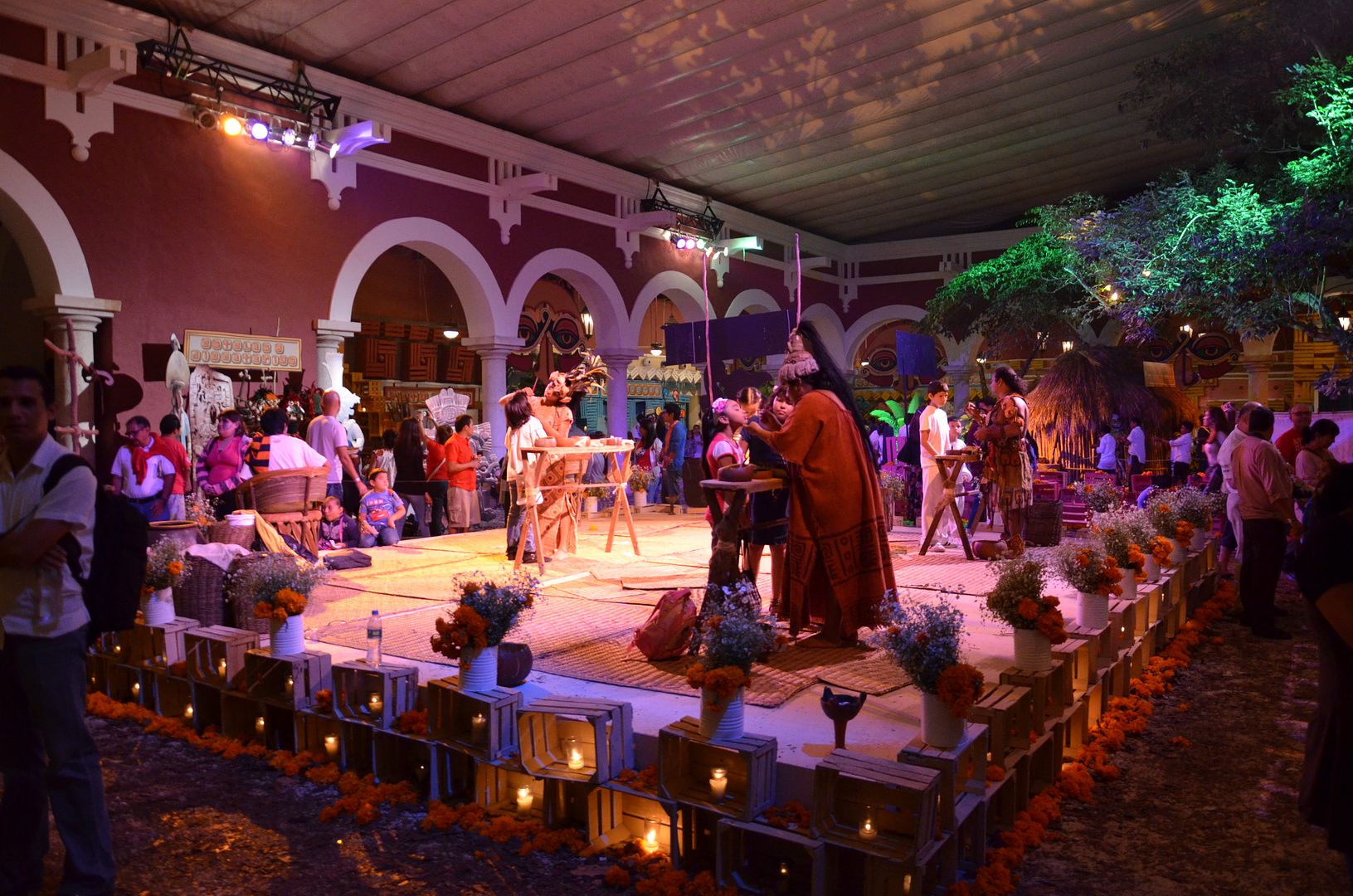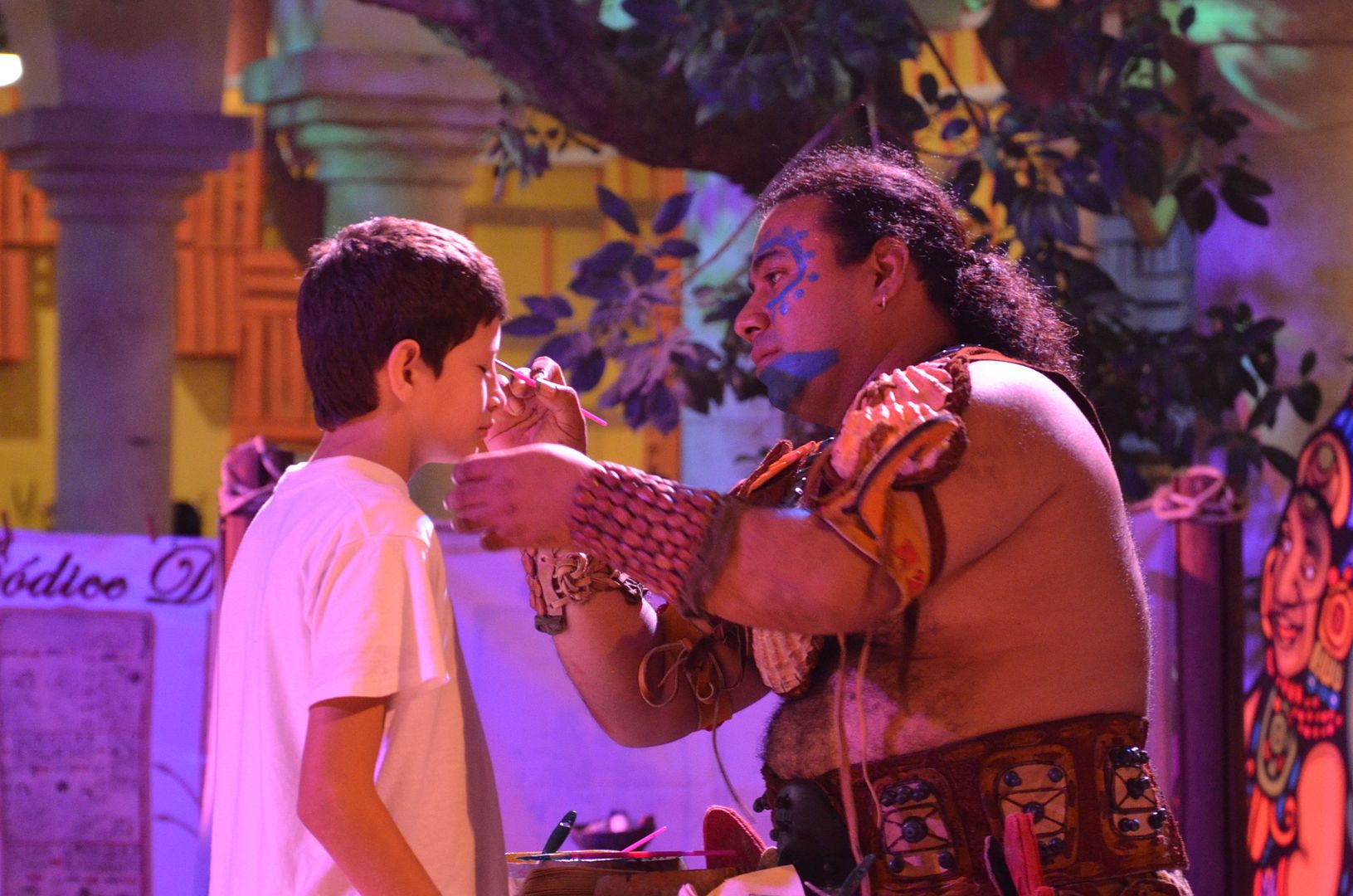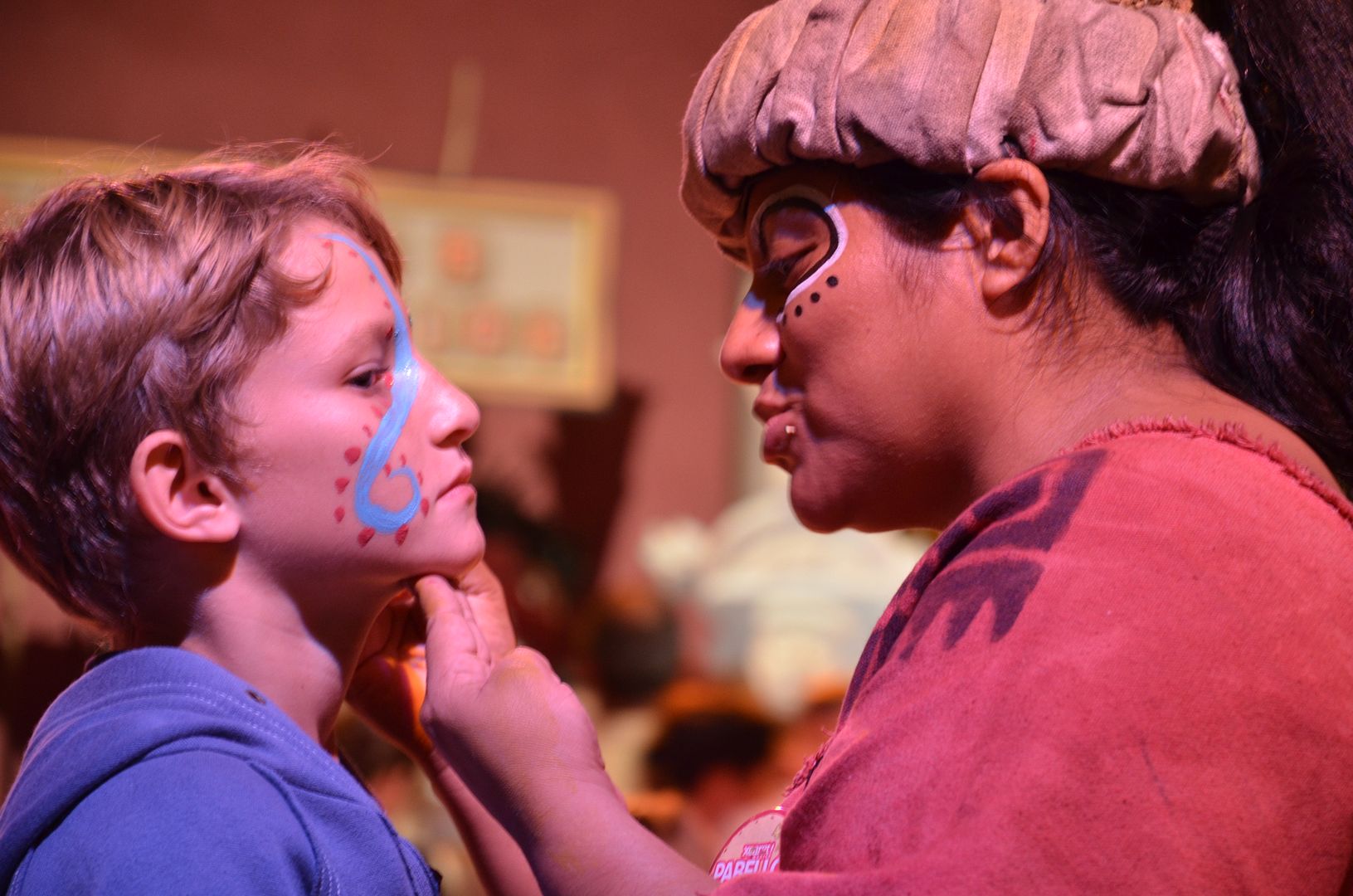 The sights, the sounds, the smells were almost overwhelming as we made our way through the park. We rested for a bit and grabbed a bite to eat at one of the many food stations set up throughout the park. Among the offerings, enormous tortas of pork and chicken tamales all served up with pickled onions, crema, queso fresco and a variety of salsas. There were fresh-baked pan muertos and crispy sugary churros for the kids. Cold cervezas and tequila kept the grownups sane.

Of course, no Vida y Muerte celebration would be complete without a trip to the cemetery and this year was no exception.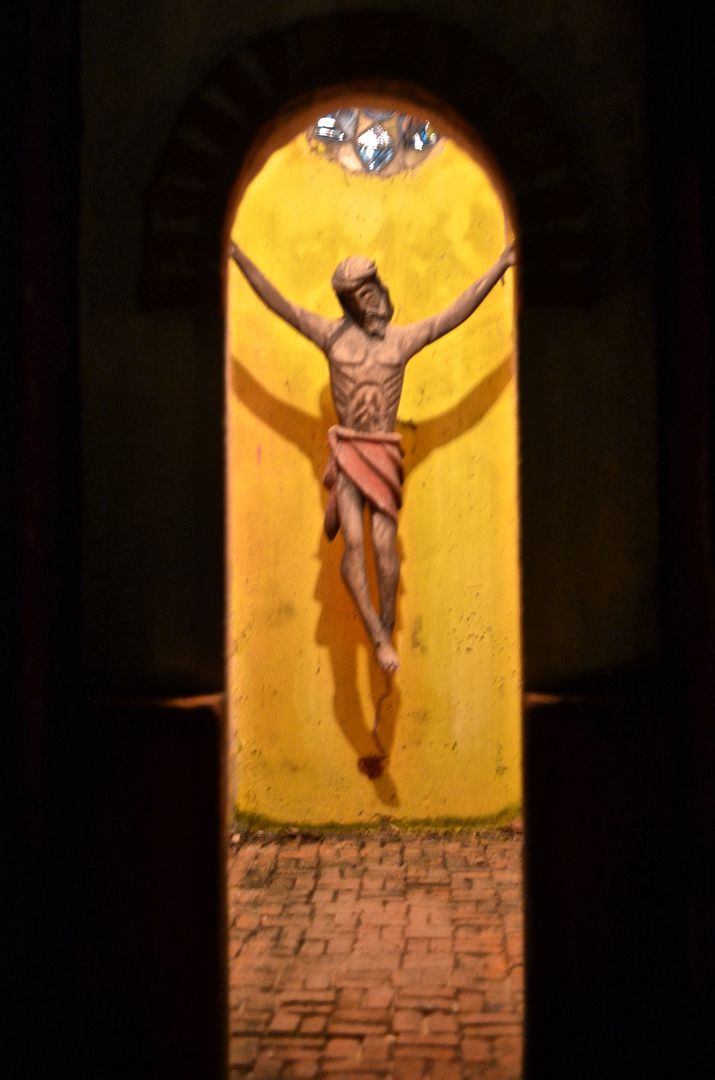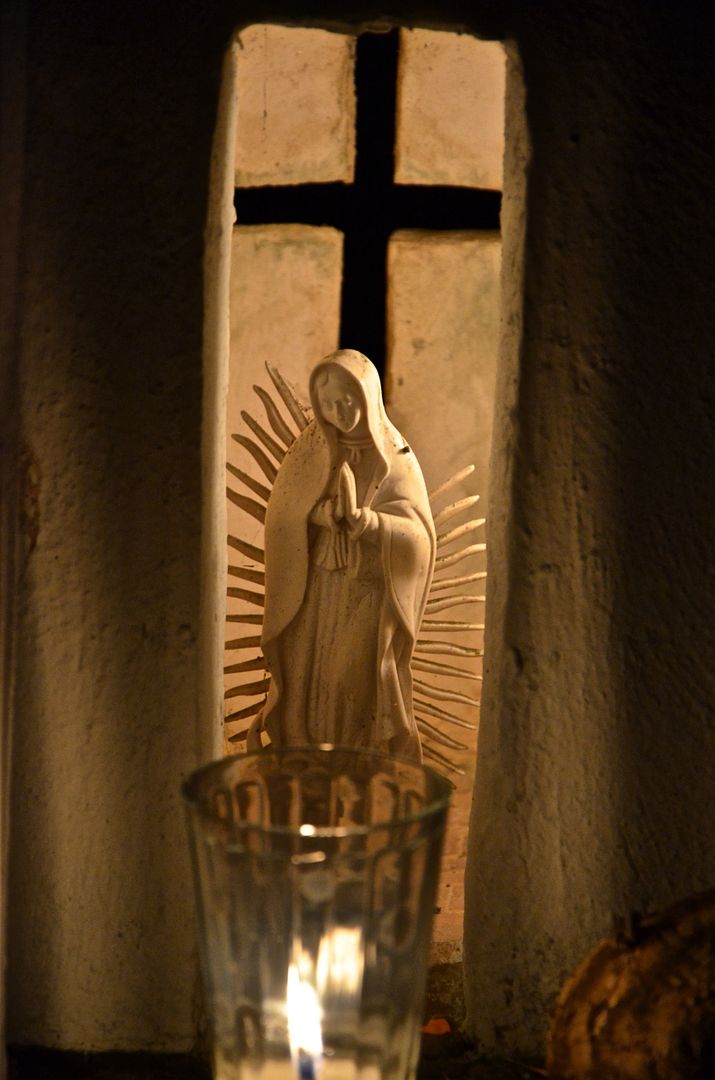 November 1st (All Saints Day) is the day generally set aside to remember children and babies who have passed while November 2nd (All Souls Day) celebrates the lives of beloved adults who have moved on to the next realm. This is a time set aside every year for everyone to recognize, remember and celebrate the lives of their ancestors and departed loved ones. This time of reflection is unique to each family and the festivities vary regionally. After my trip to Tres Reyes last year for their celebration of Hanal Pixan, I was really able to see the strong distinctions between "modern" altars for Dia de los Muertos and more traditionally Maya altars erected for Hanal Pixan. Unfortunately for me, the altars were set up in a new area this year and by the time I made it there, many of the candles had been extinguished and some altars disassembled for the evening.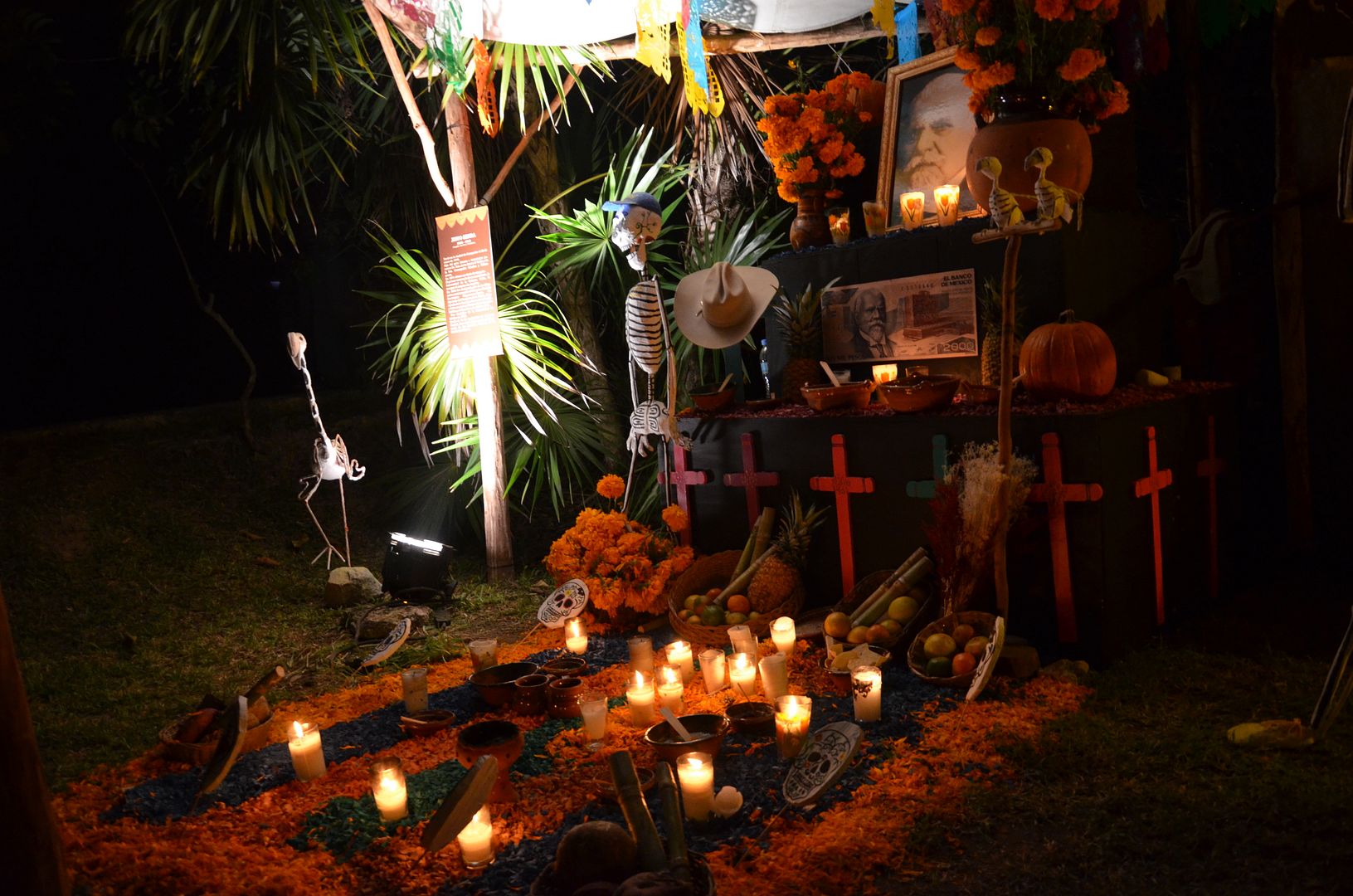 Although the Xcaret Vida y Muerte Festival is held for four days, the actual Dia de los Muertos holiday is celebrated on the first two days of November. These days tend to be the busiest at the park. I recommend coming as early as you can to be able to see as many of the shows and exhibits as possible. If you can manage a full day in the park, your regular pass will grant you admittance at the festival as well which is a great deal! I think next year, I will bring the kids one evening and then come back another night by myself to make sure to catch all the elements of the festival that I missed this year. We spent a lot of time in the children's pavillion and missed out on a lot of the shows that I would have liked to see. One thing is for sure, the festival organizers have made this event better every year, adding more and more value to the very reasonable ticket price. I am already looking forward to Vida y Muerte 2013!

I moved to Mexico with my family in 2004 with the hope of offering our children a more global education and world view. Since then, we have traveled through Mexico, Belize and Guatemala, gathering friends and life experiences and learning a lot about ourselves along the way. When we are not out and about exploring, Rob and I own and operate BuyPlaya, a Playa del Carmen real estate company and FurnitureMex. "Life's a Beach" is a catch-all blog where you may find anything from restaurant reviews, to recipes, gardening tips, commentary about expat daily life, local events, information about moving to Mexico and educating children in Playa del Carmen. You can also find me on Facebook, Twitter and Google+.