Recycling on the Riviera Maya
by Michele Kinnon (Feb. 2014)

Reduce! Reuse! Recycle! You know you should be doing it, but without the regular pick-up service that many of us were accustomed to in the U.S. and Canada, many people living in Playa del Carmen are unaware or confused about their options for recycling. The good news is there ARE some very good options offered for those looking to actively recycle on a regular basis ... and that should include everyone! As the Municipality of Solidaridad creates approximately 450 tons of garbage every day, the time has come for action. It is obvious that the government recognizes the importance of recycling and is actively creating strategies to make it a part of everyone's daily life.

Depending on your neighborhood, you may be able to separate out your recyclable cans when you put out your trash and have them picked up by local workers, who then turn in the aluminum for cash. Some gated communities and condominium complexes are particular about how and when waste is set out so be sure to check with your HOA or property manager to see what is allowed and expected.
Some of the more ecologically conscientious private schools in the region run their own ongoing recycling programs and this is a huge help to many families, ours included. If you have children in school, you should check with administrators to see if there is a recycling program in place. If not, encourage other parents to request that some sort of program, even on a limited level, is initiated. Recycling bins can also be found now at some if not all of the supermarkets and big box stores.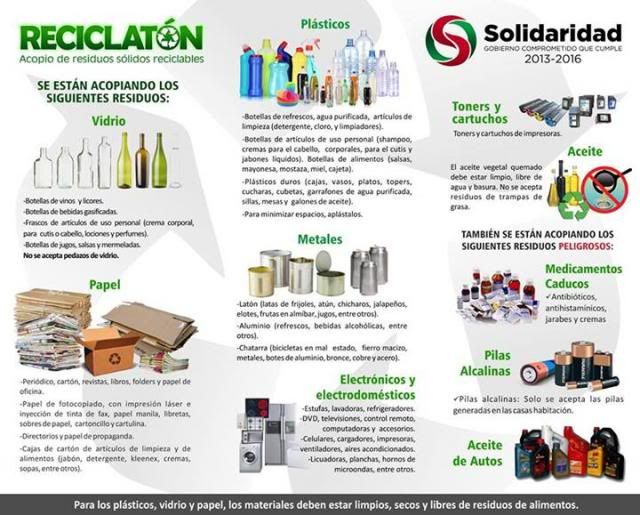 On the first Friday of every month, the Municipality of Solidaridad accepts all recycled items, including appliances and batteries at the "centro de acopio" in downtown Playa del Carmen. The collection center is set up in front of the Municipal Plaza and is well marked. Although vehicular traffic has now been prohibited on Av. 20 between Calles 8 and 10, authorities will allow you to pass if you are unloading your monthly recycling.
These are the dates for 1st Friday Recycling 2014 in Solidaridad: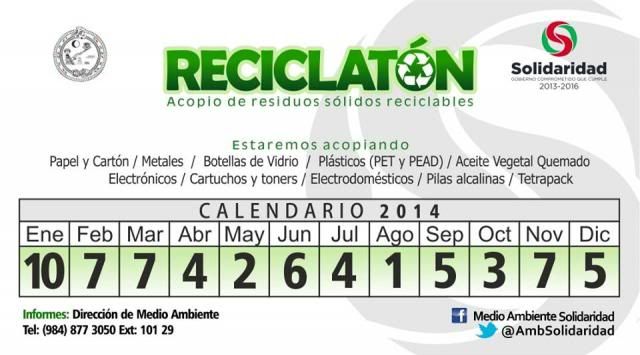 This is the primary recycling drive for the Municipality of Solidaridad and the option that accepts the widest range of items. Alternative collection locations for Solidaridad are arranged monthly and announced in advance of the collection date. In Puerto Aventuras, you may leave your recyclable items in the "centro de acopio" at the skate park. Business owners will obtain a receipt for their contribution which can be presented to Municipal officials as proof of compliance.

Recyclable items include:

Plastics (PET) - clear plastics, water bottles, etc.
Paper - must not have crayon on it or other oily substances
Newspaper
Cardboard – clean with no food oils or residue
Tetrapak (milk/juice cartons)
Batteries
Lighters
Old Electronics
Scrap Metal
Toner Cartridges
Aluminum – cans, clean foil, etc.
Used Cooking Oil – in a sealed container
_________________________________________________________

Kilo Verde - Of the recycling options available to the residents of Playa del Carmen, Kilo Verde is my favorite. An initiative led by the Ayuntamiento de Solidaridad, Kilo Verde was established to promote recycling, environmental care and proper waste management. Kilo Verde encourages residents of the Riviera Maya to separate properly their household waste and, at the same time, contribute to the reforestation and beautification of their own neighborhoods.

This innovative social program began in 2008 and over the past few years, thanks to some new governmental recycling requirements, has steadily grown in popularity. Individuals and businesses in Playa del Carmen are welcomed to the Kilo Verde collection center where they may exchange their recycling for a lovely indigenous plant or tree. They have a variety of species available and the plants you can choose from depend on the amount of refuse you turn in. As long as you turn in at least one kilo of recyclable items, you can take a plant of your choice.

Kilo Verde does not yet have the ability to accept the range of products that the 1st Friday "Centro de Acopio" can. They do take paper, newspapers, magazines, clean cardboard, plastics #1, #2, #4 and #5, cans, glass bottles and jars, and electronics. Everything should be sorted and will be weighed. This fantastic new recycling project is really gaining force! It is funded by the Mexico Environmental Protection Agency and is held in a different location every month in order to be able to service as many regions of the city as possible. The center will operate from 9:00 a.m.–1:00 p.m. In order to support the needs of local business people trying to comply with the local government's new regulations, Kilo Verde is able to provide receipts valid for proof of participation.
These are the dates and locations for Kilo Verde 2014: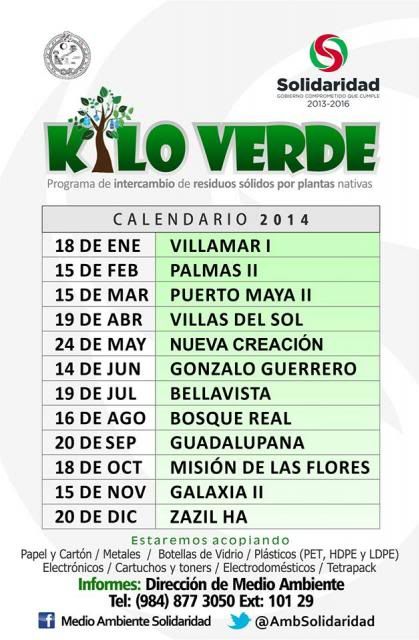 It can be a bit tricky to find the exact location of the monthly Kilo Verde collection if you are unfamiliar with all the various neighborhoods. Generally, if you drive to the area and ask around, someone will know where they have set up. This has become a very popular recycling program. Come early to get the best choice of plants!